COVID-19 Update – October 2020
Thank you for being patient whilst the club has been closed.  We are pleased to be able to re-open off the back of the recent announcements, but as always there are restrictions that we need to follow.
Below is all you need to know regarding the club re-opening.  As per the previous times we have opened, it remains vital to ensure everyone champions the cause to keep the club safe and free from COVID-19 so that we can enjoy tennis ongoing!
The fundamental restriction we need to work with is that no more than 10 players can be on the premises at one time (this excludes coaches) and there can be no more than two households per court (excluding coaches).   For Tennis Victoria's full 'Return to Play Guidelines', please see: https://www.tennis.com.au/vic/files/2020/10/Community-Tennis-Guidelines-Metro-Melbourne-1.pdf
Coaching 
As per the email on Monday night, coaching is now available with Metro tennis by making bookings here: https://my.powerdiary.com/clientportal/ps99h  Private & semi private lessons are available. To assist with meeting number requirements, parents are asked to please watch lessons from the park/outside the premises (but still within line-sight of young children to comply with Child Safety requirements).  For those having lessons, we ask that you please wait to enter the court until those from the  previous lesson have departed.  All other requirements as per below apply – e.g. hand sanitiser on entry/exit, no sharing of equipment, social distancing etc.
Competition 
Competition is still not available at this time.  We will provide updates when this can recommence.
Ad hoc/Casual Tennis – effective Thursday 22 October 2020 
The courts are available for casual tennis as per the following:
Upon arrival, you must record your attendance at the club using the QR Code Scanner on the clubhouse windows.  This is for tracing purposes – whist we hope to never need the information, it will be essential data needed rapidly should we require it.  Thank you for your help with this.
All social distancing requirements must continue to be followed i.e. 1.5m distancing
Use of hand sanitiser upon arrival and departure
No handshakes
No use of the drink fountains – please ensure you bring your own water bottle pre filled
Masks – while masks are not required during tennis play itself (considered strenuous exercise) they are required to be worn by those 12 years and older at all other times when out of the house (unless an exemption applies) so please ensure you have a mask with you and use it when off court.
No sharing of equipment
You will need to bring your own balls
Clubhouse is closed and only to be accessed for toilets or the first aid kit/defibrillator i.e. the kitchen and other areas are off limits (it is important that this is adhered to so please bring your own water bottle already filled)
Please limit your hit up to an hour total if others are waiting to use the courts (no need to vacate the court if no one is waiting)
No spectators please (unless parents/guardian supervising children)
Gates must be kept closed at all times to ensure member/swipe card only access (if you don't have a swipe card, these can be purchased for a small fee – please email secretary@pmtc.org.au)
No one from outside 25km radius can play at PMTC
To find out when the courts are available for casual hit ups, please see the calendar on the PMTC website at:  https://pmtc.org.au/events-calendar/
Light tokens – due to the closure of Beacon Cove Store we are just in the process of sorting an alternative venue to purchase light tokens and will let you know once confirmed
The "get in – play – get out" approach still applies so please leave the courts as soon as practicable following your hit.
And most importantly:
Please stay at home if you have been exposed to someone with COVID-19 in the last 14 days or have mild flu-like symptoms. If you are in a high risk health category, please consider whether you should be administering or playing tennis at any time during this period, please do not take unnecessary risks.
Please notify the club ASAP (0416 188 246) if you or a close contact test positive to COVID-19 and you have been in attendance at the club so contact tracing can be undertaken immediately.  Thank you.  
Welcome To Our Club
The Port Melbourne Tennis Club was established in 1885.
In the early 1970s the club was relocated to the current site to allow for the development of the Graham Street overpass.
At that time the number of courts were increased from two to three en tout cas courts and the current club house was built.
The club is incorporated and managed by committee of management elected annually by the members.
Swipe Cards
Thank you everyone for your patience with transitioning over to the new swipe card system.
If you are still to changeover your card (or purchase one if you didn't have one), please email secretary@pmtc.org.au to arrange for a card.
Sunday Social
All members welcome! Every Sunday at 9 a.m. A good opportunity for new or interested members to join in.
Light Tokens
Tokens available for members to pay for lights per half hour. Tokens may be purchased from Beacon Cove Food Store at 103 Beach Street, Port Melbourne.
Remember when using the lights that once the warning light is activated you have 5 minutes to either complete your game or to add more tokens. Do not let the lights go out & then add another token. You will lose your token.
Once the lights go out they need to cool down before they will start again!
If you have any queries or want further information contact one of the committee through the contacts page.
Become a Member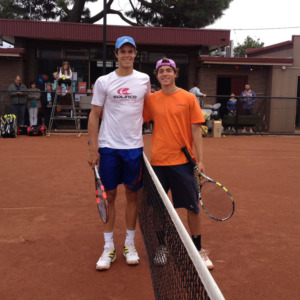 We welcome people from the community to join the club and enjoy the benefits of membership.
Please email the Secretary at secretary@pmtc.org.au with any questions or go to our Membership Page
Coaching
Coaching is available.
Please contact our excellent coach Dimi and his team at MetroTennis or call them on 0417 581 318.