Tennis at PMTC has resumed as normal. Hurrah!
However Players who find that they test positive need to communicate this to PMTC committee a.s.a.p. via email – pmtennisclub@gmail.com
The clubhouse is available to use as required. But multiple people gatherings are not encouraged.
Please note : PMTC is a members only club and consequently we don't hire out courts. (Membership information can be found on the membership page.)
Welcome To Our Club
The Port Melbourne Tennis Club was established in 1885.
In the early 1970s the club was relocated to the current site to allow for the development of the Graham Street overpass.
At that time the number of courts were increased from two to three en tout cas courts and the current club house was built.
The club is incorporated and managed by committee of management elected annually by the members.
Swipe Cards
Thank you everyone for your patience with transitioning over to the new swipe card system.
If you are still to changeover your card (or purchase one if you didn't have one), please email secretary@pmtc.org.au to arrange for a card.
Sunday Social
All members welcome! Every Sunday at 9 a.m. A good opportunity for new or interested members to join in.
Light Tokens
Liquor Stax Port Melbourne on the corner of Graham & Clark Streets have kindly taken on holding light tokens for us. It costs $6 per half hour, cash only.
Remember when using the lights that once the warning light is activated you have 5 minutes to either complete your game or to add more tokens.
Do not let the lights go out & then add another token. You could lose your token.
If you have any queries or want further information contact one of the committee through the contacts page.
Become a Member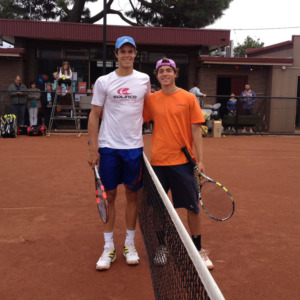 We welcome people from the community to join the club and enjoy the benefits of membership.
Please email the Secretary at secretary@pmtc.org.au with any questions or go to our Membership Page
Coaching
Coaching is available.
Please contact our excellent coach Dimi and his team at MetroTennis or call them on 0417 581 318.