COVID-19 – RESTRICTED PLAY
Update 24 May 2020 –  This maybe modified again soon.
PMTC is recommencing tennis in a restricted format
As of Monday 25 May coaching via Metro Tennis will resume (private & semi private lessons only).  To book please see:  Online Booking Link (please note limited spots are available).
To ensure the club is able to adhere to the health directives, unfortunately no ad hoc social play is available at this time.
Attendees at the club must read the Return to Play Guidelines and be aware of the following:

DO NOT ATTEND the courts if you have any symptoms or are at risk of having been in contact with someone in the past 14 days who may have COVID-19. Symptoms include: fever, chills or sweats, cough, sore throat, shortness of breath, runny nose, loss of sense of smell.  VicHealth recommends seeking medical advice and getting tested.  Anyone attending with symptoms will need to be asked to leave.
The maximum number of people at the courts (i.e. within the perimeter) is 10.  This includes coaches, parents, administrators and means anyone else must stay outside the club premises until the previous player(s) have left.
For contact tracing purposes, a record is required to be kept of all players who attend the courts. We also encourage as many members to download the COVIDSafe app to assist with contact tracing.
Maintain social distancing (at least 1.5 metres apart) and no handshakes or high fives.
The clubrooms will be closed until further notice except for use of the toilets. This means no access for tea or coffee making or for anyone wanting to take a shower.
Access to the courts will be through the side gate only (Swallow Street end, behind Court 2).  A sanitising station will be set up for entry and exit.
BYO water bottle as the water fountains are not available for use.  Also BYO racquets, towels etc so that there is no sharing of equipment.
No socialising on the courts. Once you have finished, leave as quickly as possible.
Whilst steps have been taken to minimise the risks, all attendees at the club are required to take responsibility for ensuring their own health and safety and adhering to social distancing and other requirements.  Please again refer to the Return to Play guidelines. 
It is advised that you do not attend the courts if you have a higher vulnerability to COVID-19 (eg age, immuno suppressed, other health conditions).  Please see the Department of Health for specific details     
Welcome To Our Club
The Port Melbourne Tennis Club was established in 1885.
In the early 1970s the club was relocated to the current site to allow for the development of the Graham Street overpass.
At that time the number of courts were increased from two to three en tout cas courts and the current club house was built.
The club is incorporated and managed by committee of management elected annually by the members.
What is Happening
With the increasing concerns arising from the spread of COVID-19, please be advised that the Port Melbourne Tennis Club (both clubhouse and courts) is now closed, effective immediately.
The committee has not taken this decision lightly but it considers it the safest for our members and the most responsible step to take for the health and safety of our community as a whole.
The swipe card system has been overridden so swipe cards will not work to open either the gates or the clubhouse until further notice. We very much appreciate your understanding and assistance with this. We will continue to monitor the situation and provide updates when any changes occur.
Swipe Cards
Thank you everyone for your patience with transitioning over to the new swipe card system.
If you are still to changeover your card (or purchase one if you didn't have one), please email secretary@pmtc.org.au to arrange for a card.
Sunday Social
All members welcome! Every Sunday at 9 a.m. A good opportunity for new or interested members to join in.
Light Tokens
Tokens available for members to pay for lights per half hour. Tokens may be purchased from Beacon Cove Food Store at 103 Beach Street, Port Melbourne.
Remember when using the lights that once the warning light is activated you have 5 minutes to either complete your game or to add more tokens. Do not let the lights go out & then add another token. You will lose your token.
Once the lights go out they need to cool down before they will start again!
If you have any queries or want further information contact one of the committee through the contacts page.
Become a Member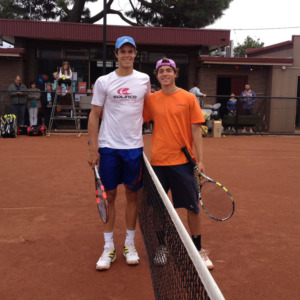 We welcome people from the community to join the club and enjoy the benefits of membership.
Please email the Secretary at secretary@pmtc.org.au with any questions or go to our Membership Page
Coaching
Coaching is available.
Please contact our excellent coach Dimi and his team at MetroTennis or call them on 0417 581 318.