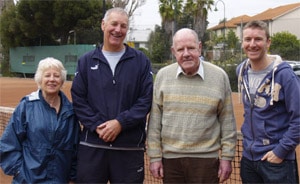 The Committee is pleased to announce the induction of a new Life Member, to join our existing Life Members; Shirley Stewart, Leo McLaughlin, Glenys Ditton and Bob Snell. PMTC Life Membership recognises outstanding service rendered to the Club and Richard Scott has certainly delivered that.
He started his illustrious tennis career in South Australia, and joined the Port Melbourne Tennis Club in 1988 after reading an article in the local newspaper. An extremely well-organised individual, and never one to take a backward step at accepting responsibility, Richard soon found his way onto the Committee where he delivered invaluable service over a 16 year period. During this time, Richard served 3 years as President, 3 years as Vice-President and 3 years as Secretary of the Club.
Beyond his "official" duties, Richard has been an integral part of the on-court happenings at the Club. The Saturday afternoon competition provided Richard with not only a great social outlet, but a happy hunting ground also, having great success over many seasons. Many of the Club's victory pennants can be attributed to his skill and determination on the court. Forensics would reveal his fingerprints are all over a host of our club championship trophies, and it was on the doubles court particularly that he excelled.
He also provided the Club with hygiene services free-of-charge through his wash room accessories business. Richard's running of the social tennis was invaluable to the Club, both from the perspective of introducing new members, but also providing existing members with a sense of inclusion.
A great club man, his standing and recognition within the Club is officially acknowledged with Life Membership. He is the very epitome of a Life Member and we are fortunate that he happened to come the way of our Club 23 years ago.
PMTC is honoured to have Richard Scott join our list of distinguished Life Members.