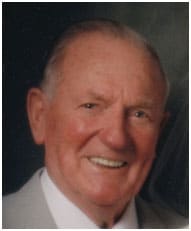 The Port Melbourne Tennis Club has lost one of its Life Members, with the passing of Mr Leo McLaughlin on Saturday, 5th November 2011.
Leo, together with his beloved wife Iris, made a big impression at our tennis club. He lived on Ross Street in Port Melbourne, very close to the courts, and was a keen tennis player before the passing of time moved him off the courts and into the clubhouse. He was an avid follower of the club competitions and social play, and was forever quietly volunteering his time to clean up around the club.
He arranged social badminton evenings at the Garden City Community Hall, and was a stalwart at the PMTC Christmas party, where he had a mortgage on the barbecue and dreamed of one day inventing a square sausage for cooking ease. When asked what he was having for dinner on any given night his response was always the same soup sandwiches.
Tennis aside, Leo was also passionate about the Essendon Football Club and horse-racing. He worked on the players door at Windy Hill for many years; a job he thoroughly enjoyed. He was also the unofficial SP bookmaker when he worked on Salmon St, Port Melbourne, in the factory where Valiants and Hillman Hunters were made. I recall a PMTC Christmas party where Leo discussed the great racing champions of years gone by, and retold his adventures of 1929 when he jumped the fence to watch a 3-year-old Phar Lap run 3rd in the Melbourne Cup.
In his later years, Leo lived at the Ferndale Gardens Nursing Home in Bayswater North, after moving there from South Port. He had lots of nurses and volunteers to fuss over him and the staff spoke fondly of Leo as a lovely man, who was very considerate of others and always keen to entertain.
He lived a full, principled life and loved socialising and sport. Leo was community-minded and always there to lend a hand. He and Iris loved being around the tennis club, and the club loved having them around. The long-time members who were privileged to know Leo will all miss one of the Port Melbourne Tennis Club's true characters.
Goodbye Leo. Geof Snell – PMTC President